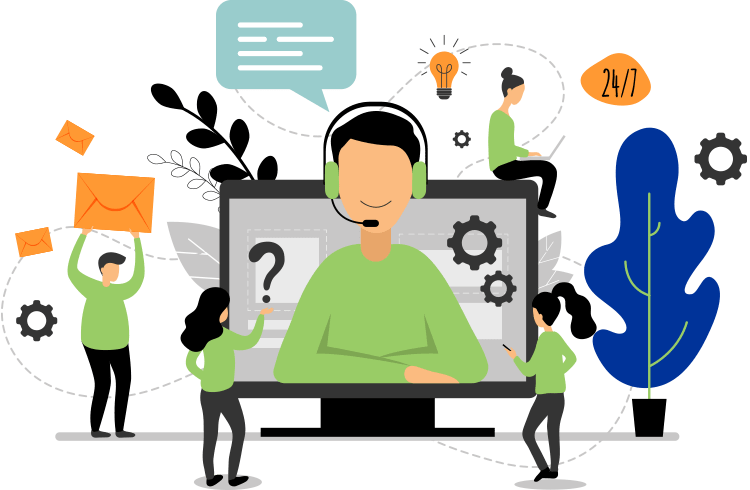 An IT service desk or helpdesk support solution gives your business a single point of contact. It ensures that your technical issues are addressed quickly and effectively so your business can continue operating.
Our IT Support and Helpdesk Services cover:
Imagine having an important presentation in front of your new investors or partners. During this event you experience network, software or hardware issues that cannot be resolved remotely. We provide experienced professionals to resolve system and service-related problems directly at your workplace. Here are some of the many advantages you will experience from our on-site support:

Immediate Resolutions: The helpdesk is our tool to provide you with the best service whenever you need it. As soon as you raise a request the issue will be resolved depending on the service level agreement.
Controlled Costs: You don't have to worry about any hidden fees. We have a fixed and transparent pricing, so you can easily calculate and control the costs before they rise.
Bilingual Services: All our experts have advanced English and German language skills. This is how we avoid barriers caused by misunderstandings or a lack of language skills.
Collaboration: This is our key to customers - in contrast to other IT service providers we want to be up to date with the happenings in your company. That's the best way to give you exactly the service you need and be faster in resolution.

Your team is representing your company in a meeting far away from the office. Before the meeting starts they are noticing that there's a software issue and they can not access the presentation for the potential clients. This is where we take over control to save this meeting from turning into a disaster. We quickly connect to any device in any location and resolve the issue. These are the reasons, why you sould have remote support:

Around the Clock Support: A modern business isn't limited by geography when they move to remote work operations. With customers and partners across the globe in various geographic regions and time zones it is essential to have remote support whenever and whereever it is needed.Increase in Employee Productivity: Quick issue resolution means less time waiting and more time working. Nothing is more harmful to the company than employees working accross the globe or in the homeoffice waiting for an issue resolution. No waiting - no waste of time.Ongoing Education: Remote tech support can be a simple way to teach employees about basic computer fixes. Workers can watch IT personnel navigate folders and programs to find solutions to IT issues while screensharing is activated. Although limited, these workflows can be a great way to educate team members on basic IT fixes and make it less likely that they'll request help in the future.
You are interested or you have any questions? Please contact us!
We're glad to discuss your organisation's requirements. So please contact us via the contact form below.